So, Friday, June 27 was my birthday and it was quite a blast! For those who care and/or might be familiar with Dallas, it included a (heavy) lunch at Babe's Chicken diner, a trendy dinner at Urban Taco in Uptown and night out on the town at Soda Bar (rooftop of NYLO Southside hotel).
Now, I was faced with a conundrum when it came to fashion choices for the night. I knew lunch a Babe's would surely produce a food baby. I mean, check out this platter of chicken from our lunch! (No worries, that wasn't all mine. They serve family style, so that was chicken to feed 13-14 people.) I definitely needed something that wasn't extremely tight.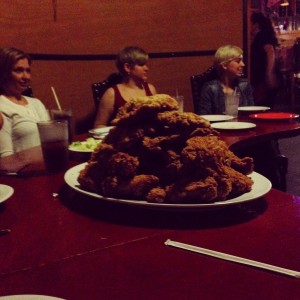 Enter my fave fashion blog, Curvy Girls Word. The writer, Christian, is a great friend and sorority sister of mine to I sent her a text asking for creative inspiration for my outfit. I had a particular crop top I got a few months ago from Forever 21 (Currently on sale for $5 here). Does the girls a lot of good, and has a pretty lace back. Being the angel she is, she sent me a variety of looks to choose from.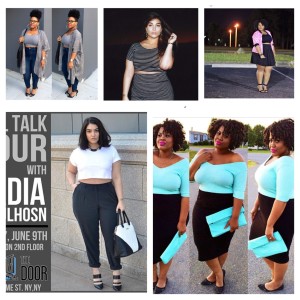 I LOVED the look with the pants so on Friday, it was off to the stores we go.
I found these printed pants at A'gaci store for $21.50. Pairing with clothes, shoes and accessories I already had, this completed the birthday look.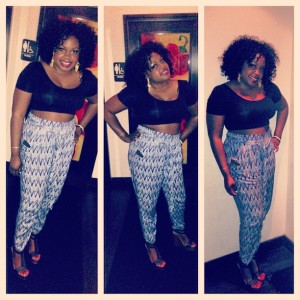 Special thanks to Christian for the fashion help! Be sure to check out her website or Facebook page for more cute looks.