Last weekend I went on vacation with my dear friends and occasional She Be Knowin writers, Amb and Elena. It was my second time there, so I had a better idea of what to expect when I went. We discovered a lot of great things, Tom's Urban and Hash House a GoGo were probably my favorite discoveries. I also introduced my friends to the deliciousness that is Sprinkles Cupcakes. (Foodies, much?)
I love Las Vegas, so very much, but one key issue that I usually have is skin dryness. The air is dry, the water is hard, the sun is hot, and I constantly find myself in need of moisture from the inside out. I'm already dry skinned, in general, so I have to have some extra extra help when I'm there. So what does my skin regimen look like in Vegas? So happy you asked.
1. Start with moisture.
I start the day with a moisturizing cream. It will still be a downward spiral throughout the day but it's a good start.
2. Pack light.
If I wear foundation, I keep it extremely light with a BB cream. It even has sunscreen, which is great for that Vegas sun.
3. Refresh, refresh, refresh.
This is key, and the difference between Vegas year 1 and year 2. Recently, I received a sample of Evian facial spray from The Wilkes Group. I've always loved the water (and I'm extremely picky about bottled water, but that's another story for another day), so I trusted Evian to do a great job of hydrating my skin and boy do they deliver! In Vegas, I primarily used the facial spray as a refresher to keep my skin hydrated and looking great. Other times, I've used it to dampen my makeup brushes to help my eyeshadows pop. The Evian facial spray comes in several sizes so you can carry it in your purse or your almost suitcase sized makeup bag.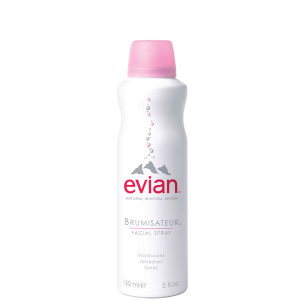 4. Hydrate, of course.
Of course, I had my share of adult beverages but I made sure to drink water at every meal and before I went to bed. It's no secret that hydrating from within helps your skin.
Trip two to Vegas was great, and I can't wait to head back!
Do you have any other tried and true tips for beating the Vegas sun? Share in the comments below!
Disclaimer: I received a free sample of Evian facial spray by The Wilkes Group in exchange for a review. Opinions and cheesy jokes are always my own. For more information about Evian Facial Spray visit www.evianspray.com and on Facebook at www.facebook.com/evianspray.