I didn't watch the premiere live, because I can't be tied to rigid things like television schedules. But I did rent the episode on iTunes to watch during my flight and I'm here to finally share my insights about The Bachelorette. As the first African American headlines the Bachelor/Bachelorette franchise, I am so excited to tune back in since the days of Ryan and Tristen when I used to watch with my mom. And I love Rachel even more because she is a Dallas resident. So this show involves a lot of love, but I've toned it down to 10 reasons for now.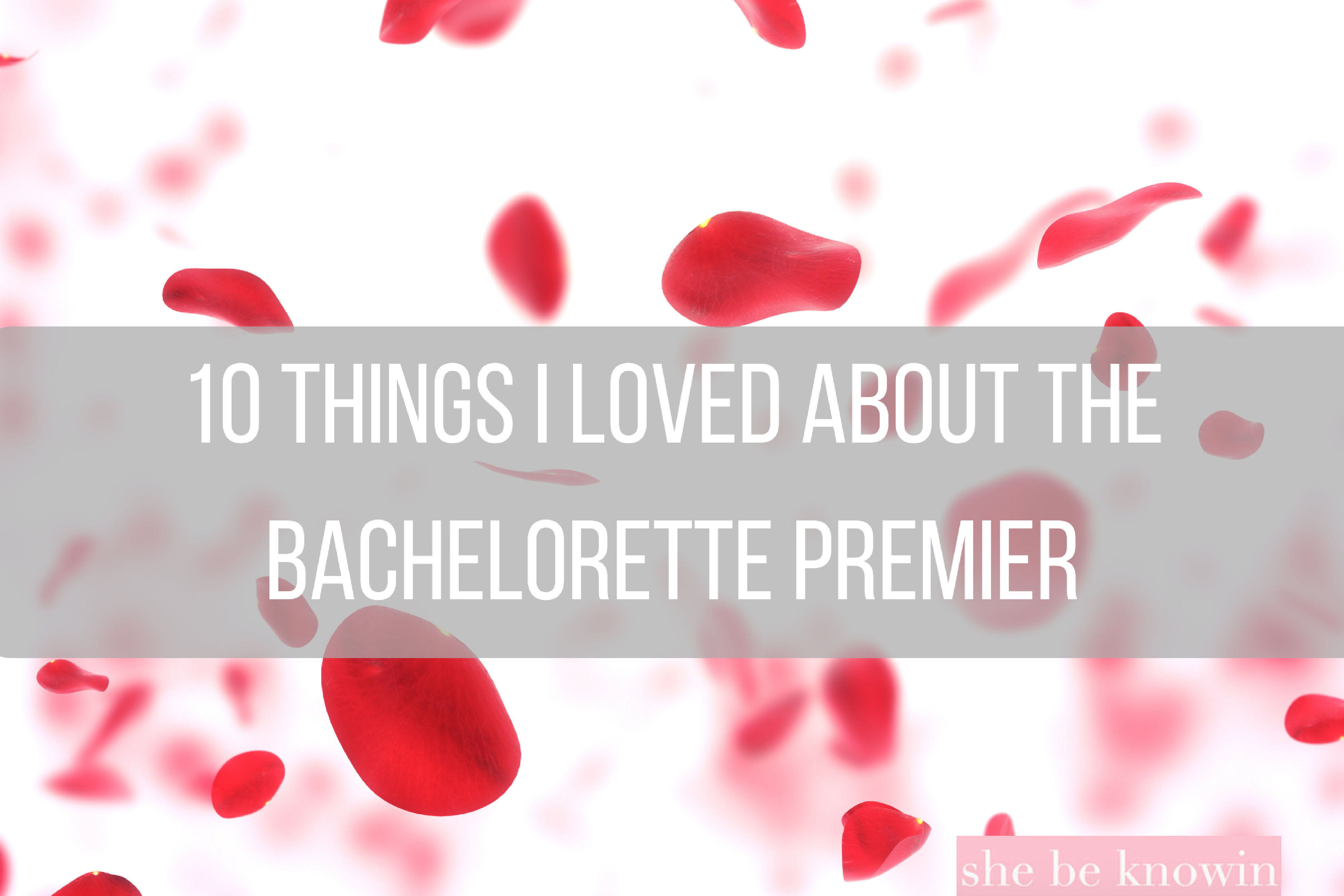 10 things I love:
1. Rachel had a gap like me.
Granted, hers is small but I love seeing people that look like me on the mainstream TV.
2. Her squad from the previous Bachelor are goals af.
That quick meeting before meeting the guys was everything. I loved that she bonded with the girls from the previous season and they were willing to come back and boost her up before the craziness ensued. Ovaries before brovaries indeed.
3. The diversity range of her suitors. And how much they swoon over her.
Growing up in Mississippi, you didn't see a whole lot of diversity in dating, especially when it came to a black woman. I loved seeing the men of different races crushing on her so hard.
4. Kenny will charm the pants off of you.
From the beginning, I was enamored with Kenny. He can wear a suit like no other, has the most adorable love for his daughter and just had those good gentlemanly manners to make get a little weak at the knees.
5. Kyle brought the snacks.
Snacks are important. If you love me, feed me.
6. Seeing all these guys giddy about meeting Rachel.
Okay, so this sounds a lot like 3 but hear me out. The boy talk in the limo about how beautiful and amazing Rachel was just made my heart smile. This is the talk I'd prefer to overhear, unlike grabbing kittens.
7. Blake and the marching banddddddd.
As a percussionist and recovering band addict, his intro was everything to me. Way to get attention. Or at least mine.
8. Fred. Cuz he fahhhhhhn.
Fred was gorgeous. I don't care how bad of a kid he used to be. He's all grown up.
9. All of the people from Dallas.
Texas showed on this show, and as a trial part time Texan, I was SO excited to see that.
10. Rachel entertains even the crazies.
Cause I cannot. But she's so humble and excited about meeting all the guys. What's not to love about her?!
And because I'm me, there were a few things that got on my nerves.
3 things I hate:
1. Jonathan with the tickles.
I hate being tickled. I will punch your grandma if she tickles me.
2. Whaboom guy (Lucas)
I don't even think I have to explain why he's annoying if you've seen the show. He seems like "that guy" that is on TV for the attention. He's going to have to do a lot to prove that he's in it for Rachel, for real.
3. Adam Jr. (looks like a Dummy Trump)
There are absurd but good ways to get a girl's attention. Weird replica dolls are not one.
Anddddd two random thoughts:
If I were bachelorette I'd cut everybody with a mismatched suit jacket but I'm just petty like that.
I have my clear favorites, but this might change week by week. But as of this week, the She Be Knowin Rose is a tie between Kenny and Blake. Kenny because he seems so charming and I love the love of his daughter, and Blake because drummer and marching band. Hello?